Full Swing Sport Simulator
Our Exclusive package includes everything you need to start playing today!
Package Includes:
The complete multi-sport software package with many sports and games including Football, Baseball, Hockey, Lacrosse, Cricket, Rugby, Soccer, Bocce, Zombie Dodgeball, Carniville and Basketball.

Full Swing Golf software, with top PGA Tour courses and more.

Sim-Optimized PC computer with object-tracking software

Impact Resistant Dual-Layer mesh screen

Four Microsight tracking cameras

Expandable platform - with the ability to add additional software.

1-year warranty on hardware & software
Features:
Uses real sports equipment

In-Game Advertising capable

Single-Sport or Multi-Sport themes – Create the ultimate interactive exhibit and themed attraction!

Residential option for the ultimate in-home experience perfect for the whole family!

Draw a Crowd – Whether it's in your home or at your business!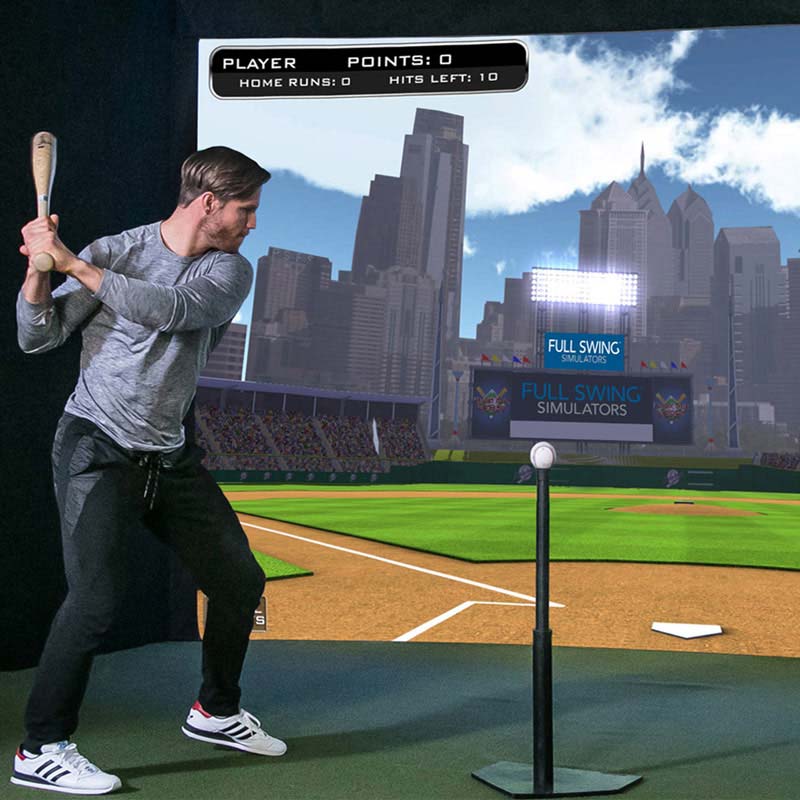 The sports simulator experts at Precision Sports can help integrate additional simulator technology such as a shooting and racing into your system.
We have the ability to incorporate home theater hardware to give you the ultimate man-cave or rec room. Create a game room the entire neighborhood will be talking about, or use the simulator to keep the family active all year long. We are happy to work with your architect or builder for seamless design and integration.
Whether you are looking to create a fixed structure in your home or utilize this technology in a customized enclosure; the possibilities are truly endless.
Contact us today for pricing and to learn more about the Full Swing Sports Simulator package.
Contact Us For A Free Quote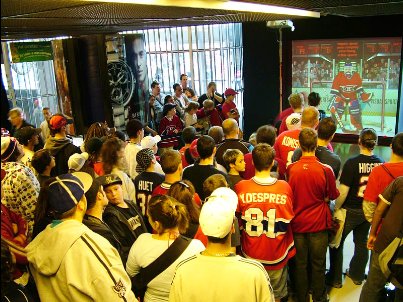 Full Swing Sports Simulator Application and Business Use
The Full Swing Multi-Sport simulator is built for business use. You can charge more for use of the simulator during busy hours of your establishment. This simulator has standard features that let you adjust the price for people who want to use the simulator. Within the individual games you can sell advertising space and generate revenue through advertisements that pop up behind the action.
Sporting Event Centers and Stadiums
Sport Simulators can draw a crowd!
The Full Swing Sports Simulator has been showcased at NFL® and NHL® stadiums, generating revenue and increasing customer satisfaction.
Full Swing Simulators in Retail Sporting Goods Stores
By adding a Full Swing Multi-Sport simulator to your retail store you can let your customers try out equipment before they buy it. Do you have a hot hockey stick you are trying to push? Hold a product demonstration on the simulator and give your customers a chance to shoot on a simulated goalie. You can demonstrate everything from soccer balls to shoes to golf clubs on this system, without your customers ever leaving your building.

Recreation Centers
Offer a wide Variety of sports to the public all Year Long
By adding a Full Swing sports simulator to your Rec center you can supplement your preexisting programs with a state of the art simulator, which can provide a teaching setting as well as hours of entertainment. Now you can hold a winter baseball camp, where you can teach the proper mechanics to a pitcher. Each software program has great training potential.
Indoor Sports Centers
Indoor arenas are the perfect venue for a multi-sport simulator.
If you hold leagues or tournaments you understand there are always teams and individual players that are waiting around to go on the ice or field. With a soccer or hockey simulator you can generate revenue in these idle times. Boost sales in your pro shop and restaurant while customers compete on a sports simulator.
Full Swing Sports Simulator FAQ
You play the same way you do outdoors! Simply hit, kick or throw a real ball into a giant screen. You use the exact same equipment - there are no special balls and no need for reflective tape or anything else. Whatever footballs, soccer balls, hockey sticks & pucks, lacrosse sticks & balls, baseballs & bats, basketballs, etc you already use, will be the ones to use with the Full Swing Sports Simulator!
The Full Swing Sports Simulator is the best multi-sport simulator on the market. The same quality and precision the PGA Pros enjoy with the Full Swing Golf Simulator is used in the Full Swing Sports Simulator. That's why it's the #1 choice in the world for sports simulation training and entertainment.
We recommend a minimum room size of 15 feet wide, 10 feet high, 20 feet deep. Some sports can use smaller spaces. We also offer custom & DIY enclosures to complete your space - contact us to discuss the many choices you can find on our Precision Sports website.
You can test out a Full Swing Sports Simulator in our state of the art showroom - the only location where you can test all all major sports and golf simulators side-by-side. Contact us to make an appointment.
Be sure to ask about our "Demo Credits" if you fly in!
Full Swing Sport Simulator are also installed in many locations across the United States, so please contact us and we can help you find the nearest Full Swing Sports Simulator to you.
Although it varies throughout the year, your Full Swing Sports Simulator will typically ship in about 4-6 weeks.
Each Full Swing Sports Simulator system comes with the complete multi-sport software package. This package includes Football, Baseball, Hockey, Lacrosse, Cricket, Rugby, Soccer, Bocce, Zombie Dodgeball, Carniville, Basketball and more.
The Full Swing Sports Simulator also includes Full Swing Golf Software with subscription service.
You can also add hunting and shooting simulation games, car racing, flight simulation and even game console integration!
Often we can install our systems into existing home theater rooms. Contact a member of our staff and we can discuss your current setup and the best solution for your home theater integration.
There is a 1-year warranty on all parts in the Full Swing Sports Simulator. We pass on the manufacturer's warranty for all other items, like the computer and projector.
Contact Us For A Free Quote
Add an Encloure!
Enclosures are more affordable than you think! Choose our budget-frfiendly DIY enclosures or request a custom encolures quote!
try before you buy
Visit our Showroom!
Compare sports simulators from all the major manufacturers in one convenient location. Call today to setup an appointment.