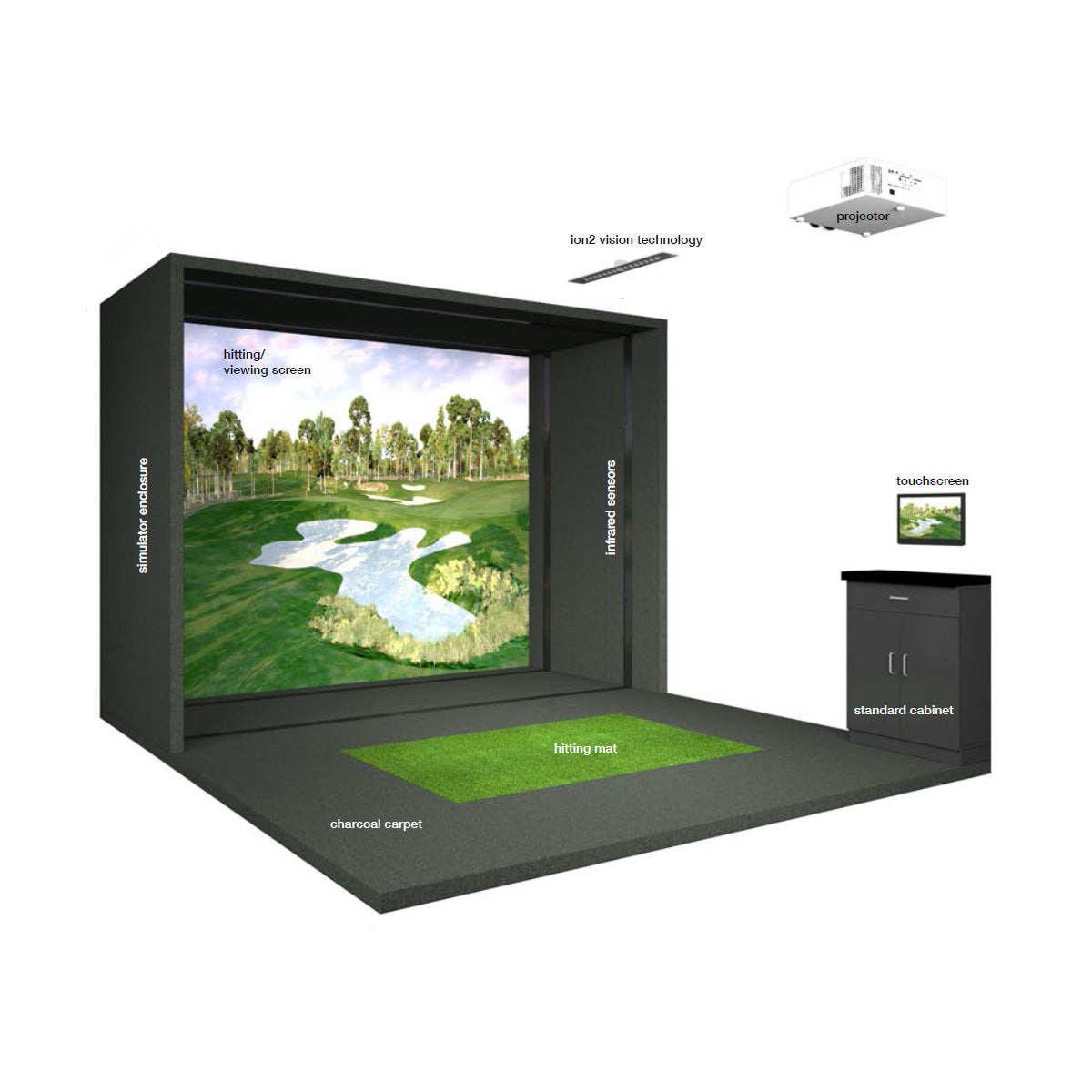 Used - Full Swing Golf Simulators - P205-B - FS-FSG205B-20-1
Low monthly payment with Affirm!
Simulator ID's: FS-FSG205B-1, 2, and 3
Simulator Brand: Full Swing
Model:  P205-B Certified Pre-Owned
Courses: 90+ 
Software: E6 1.6, Full Swing Golf Software 2 Yr Subscription
Technology: ION 3 Cameras / Patented Infrared Lightwave Technology
Dimensions: 12'5" Width, 9' 6" Height, 16' Depth
Accessories Included:  None
QTY Available:  3
New Warrantied OEM Parts:
FSG Super Computer Kit
FSG Touchscreen Kit
Projector
Ion3 Camera Technology
Ion3 Video Playback Software
Hyper Clear Camera Technology
Hitting Mat
Impact Projection Screen

New Wall & Floor Carpet

Year: 2020
Retail Price: $54,900
Asking Price: Contact us For Pricing
Status: Certified Pre-Owned/Includes FSG Support
Upgradable/Add-Ons: Showdown Golf, Multi-Sport, Lasershot

One of our friendly staff members will return your email within 1-2 business days. For an immediate response, you are welcome to call us at (518) 535-1664.
Used & Preowned Golf Simulators at an Affordable Price
Precision Sports is the industry leader for both new and used golf simulators. Our facility researches, tests, and learns everything there is to know about golf simulators, from our PGA Pro and our Golf Simulator Technology experts. Our state-of-the-art research lab is operated in a combination of Google and the PGA Show to ensure you are getting the best simulator available.
Used or pre-owned golf simulators means the platform has been refurbished, updated and upgraded with manufacturer parts that are warrantied and supported.
Pre-owned golf simulators have been reconditioned and updated using original equipment manufacturer (OEM) warrantied parts and software to ensure the simulator is working in top condition.
Precision Sports Simulator is the only retailer in the country that is certified by Full Swing Golf to support, repair, and warranty Full Swing Simulators. This ensures you are receiving a simulator in the good working order that will leave you thinking it is brand new
When affordability, price, value is just as important as quality, purchasing a premium golf simulator at a fraction of the cost of a new simulator is an ideal solution.
Purchasing a used or pre-owned simulator is supported by the manufacturer through warrantied parts and additional support.
Not only that, but second-hand simulators will not depreciate in value as quickly or substantially compared to a new simulator.
Premium brand golf simulators are engineered to last, meaning you are getting the most out of your investment.