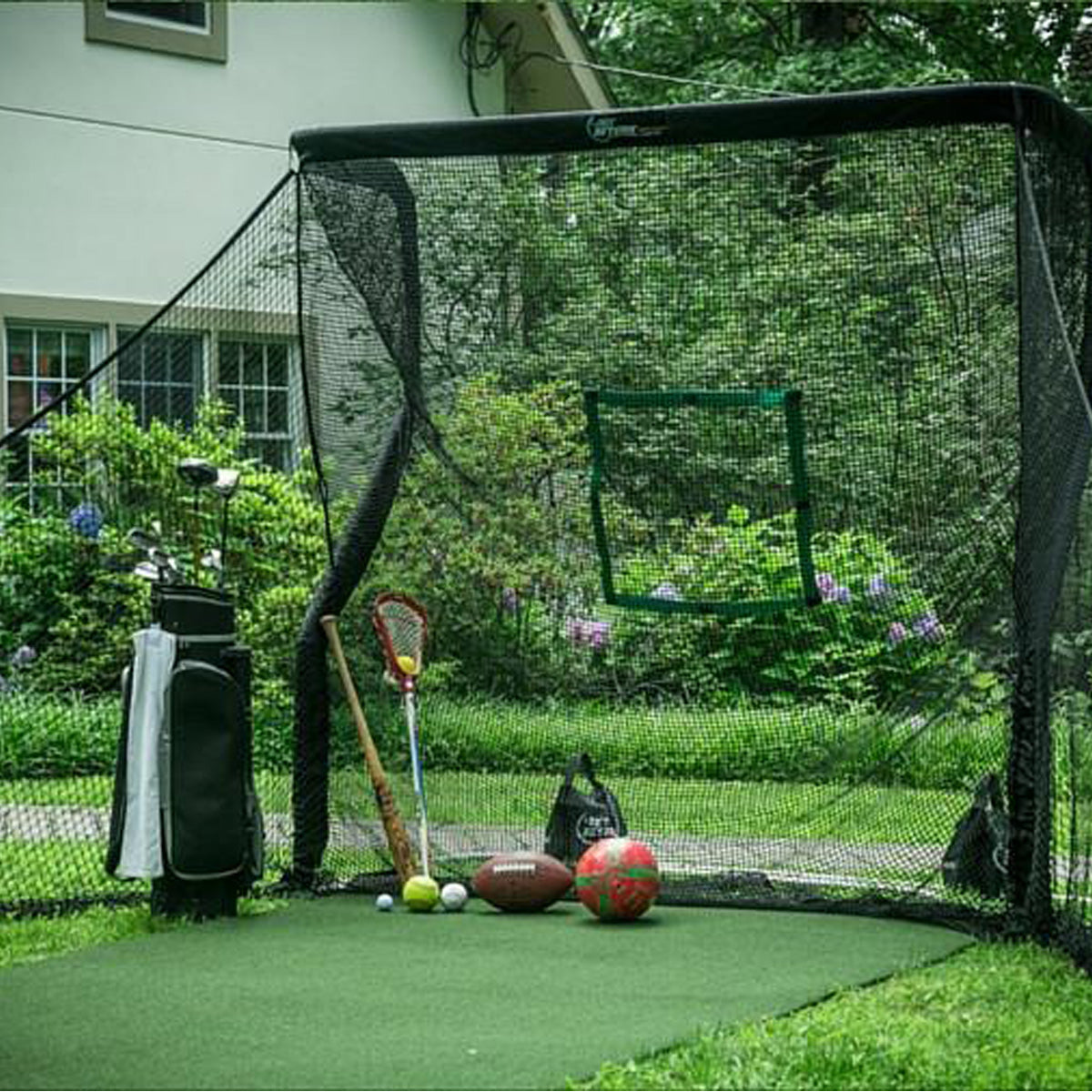 Home Series V2 Golf Package
Low monthly payment with Affirm!
Ships in 3-5 Business Days
A Home Series net can handle golf ball speeds of 200 MPH with ease and provides a golfer with the ability to practice anytime and anywhere.
The Home Golf Pro Package Includes the Following: 
Home Series Sport Net and Frame
Side Barriers (Pair)
Pro Turf - 6' Wide x 10' Long (42 oz. Nylon / 54 lbs. / 3/4" Thick)
Two Rubber Tee's - 1.75" and 2.25"
Sandbags (Quantity 4)
Duffle Bag
Description
✓ Lowest Prices
✓ FREE Shipping
✓ Questions? Talk to a Golfer:
518-456-4386
Net Specifications 
Height: 7'
Width: 7'
Depth: 3' 6"
Weight: 46 lbs.
Product is Manufactured Overseas / Pro Turf Manufactured (USA)
PREMIUM, QUALITY CONSTRUCTION
Lightweight, rugged, 1.5" tubular aluminum frame that is rust resistant. Netting is polyster, UV treated & commercial grade. Large, Stainless Steel Push Buttons Rugged, Black Poly Carry Bag
SATISFACTION GUARANTEE
30 Day Money Back Guarantee (less shipping and handling). Plus 1 Year Warranty.
ONE PERSON, EASY SETUP
One person setup in under 5 minutes! Push button assembly with tools required with a Quick Color Connect System™. The net is sleeved -- easy on and off. Stores and transports easily in convenient duffle bag (included).
MULTI-SPORT USE
The Net Return™ Home Series is not just for Golf. It can be used for numerous sports such as Soccer, Baseball, Softball and Lacrosse. This is why we say that the Net Return™ Pro Series sport net is The Only Net You Need™.
Testimonials
TITLEIST PERFORMANCE INSTITUTE
The Net Return is a new hitting net made out of heavy duty netting, that is designed in such a way that the ball returns to your feet after every swing. This net is easy to setup and packs into a duffle bag for storage or travel. It can be used for multiple sports and gives you the ability to practice your sport in the comfort of your home. There are many less expensive nets on the market but they fall short in quality which may lead to safety issues. If you want to hit golf balls at full speed and want something that will stand the test of time then you should look at the "The Net Return".
JOHN NGUYEN
Thank you for a great product. It was very easy to set up - took my son and I about 10 minutes to set up everything (see attached pic). Very high-end net and mat far exceeded my expectation. I've used other nets & mats before and this is the very best, worth every penny. It works like advertised, the ball returns with instant feed back when hitting it straight, hook, or slice. I'm glad that I also got the side nets – it has saved a few stray balls. We have been using it every day.